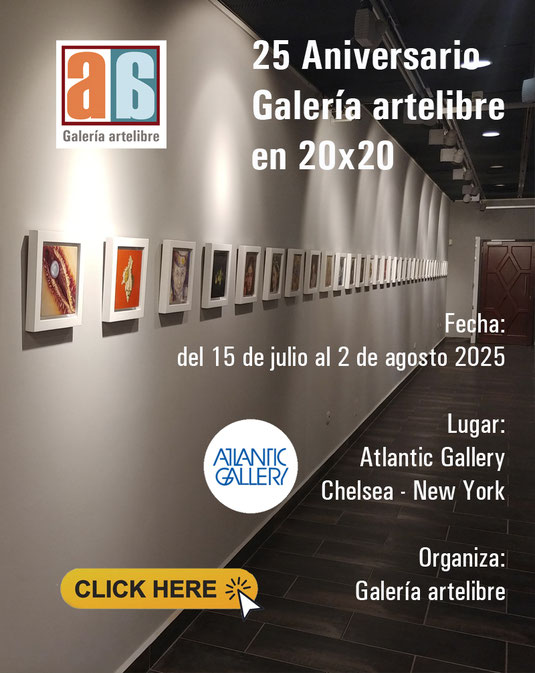 Artelibre EVENTOS organiza el 1º Encuentro Internacional de Pintores a la Acuarela, una actividad que pretende reunir a gran parte de artistas en torno a un gran proyecto, como presentación, divulgación y exaltación de esa gran técnica como es la acuarela.
................
Artelibre EVENTOS organizes the 1st International Meeting of Painters in Watercolor, an activity that aims to gather a large number of artists around a great project, such as presentation, dissemination and exaltation of this great technique such as watercolor.
          EXPOSICIÓN
El evento se realizara los días 15-16 y 17 de Junio de 2018 en todas las salas del Museo Europeo de Arte Moderno – MAEM – www.meam.es en Barcelona.
Durante estos 3 días, la entrada al Museo será gratuita para todo el público en general.
...................
EXPOSITION
The event will be held on June 15-16 and June 17, 2018 in all the rooms of the European Museum of Modern Art - MAEM - www.meam.es in Barcelona.
During these 3 days, the entrance to the Museum will be free for the general public.
PARTICIPACIÓN 
Podrán participar todos los artistas y asociaciones de Acuarelistas que lo deseen en el ámbito internacional.
-          El costo de participación con una obra será de 250€
-          Las participación con 2 obras será de 350€
La admisión será por orden de inscripción hasta que se complete el cupo de obras.
La temática podrá ser libre, utilizando obligatoriamente la técnica de la Acuarela.
Serán admitidas obras con técnica mixta, siendo la técnica de la acuarela como predominante.
La dirección se reserva la no admisión de obras que no tengan la técnica de la acuarela, siendo el artista el total responsable.
.........................
PARTICIPATION
All the artists and associations of Watercolorists who wish it in the international field will be able to participate.
- The cost of participation with a work will be € 250

- Participation with 2 works will be 350 €
Admission will be by order of registration until the works quota is completed.
The theme may be free, using the technique of Watercolor.
Works with mixed technique will be admitted, the watercolor technique being predominant.
The address reserves the non-admission of works that do not have the technique of watercolor, being the artist the total responsibility.
          INSCRIPCIÓN
La inscripción se realizara a través de la web de artelibre, rellenando el formulario  en la siguiente dirección:
www.artelibre-store.com/artelibre-eventos
El pago se podrá realizar por transferencia o PayPal (el pago por PAYPAL llevara un recargo del 5%).
No serán admitidas las obras que no hayan realizado el proceso completo.
...........................
INSCRIPTION
Registration will be made through the artelibre website, filling out the form at the following address:
www.artelibre-store.com/artelibre-eventos
The payment can be made by transfer or PayPal (the payment by PAYPAL will carry a surcharge of 5%).
Works that have not completed the entire process will not be accepted.
     PRESENTACIÓN DE OBRAS.
El tamaño de las obras no podrá exceder con marco INCLUIDO  100cm por ambos lados.
Recomendamos enviar las obras protegidas con metacrilato o material plástico, pudiéndose enviar con cristal.
En caso de rotura o desperfecto, es el artista o entidad que envía el total responsable.
Artelibre EVENTOS no se responsabilizara de cualquier anomalía, rotura, robo, hurto, etc que puedan tener las obras de clavo a clavo.
El artista o entidad podrá contratar por su cuenta el seguro que estime oportuno.
...........................
PRESENTATION OF WORKS.
The size of the works can not exceed with frame INCLUDED 100cm on both sides.
We recommend sending the protected works with methacrylate or plastic material, being able to send with glass.
In case of breakage or damage, is the artist or entity that sends the total responsible.
Artelibre EVENTOS is not responsible for any anomaly, breakage, theft, theft, etc. that may have the works of nail to nail. 
The artist or entity may hire the insurance they deem appropriate on their own account.
          ENVIO DE OBRAS
El periodo de recepción de obras será del  7 al 12 de junio de 2018
Los artistas o entidades deberán enviar las obras para que se recepcionen en estos días, siendo el costo de envío y retorno por su cuenta.
Las obras deberán ir debidamente embaladas, con embalajes de retorno, no disponemos de embalajes.
La dirección de envío será facilitara mas adelante.
....................................
SUBMISSION OF WORKS
The period of reception of works will be from June 7 to 12, 2018
Artists or entities must send the works to be received in these days, with the cost of shipping and return on their own.
The works must be properly packed, with return packaging, we do not have packaging.
The shipping address will be provided later. 
     CATALOGO
Artelibre EVENTOS editara un catálogo donde cada artista dispondrá de una página.
Para la edición de este catálogo el artista deberá lo siguiente:
-          2 fotografías de obras
-          Datos de las obras, titulo, técnica y dimensiones 
-          Dirección web
............................
     CATALOGUE
Artelibre EVENTOS will publish a catalog where each artist will have a page.
For the edition of this catalog the artist must do the following:
- 2 photographs of works
- Data of the works, title, technique and dimensions
- Web address
     INAUGURACIÓN
La inauguración se realizara el dia 15 de junio de 2018 a las 20 horas.
Se servirá un coctel de presentación.
...........................
OPENING
The inauguration will take place on June 15, 2018 at 8:00 p.m.
A presentation cocktail will be served.
          DIPLOMAS
Se entregaran 5 diplomas de Honor que otorgaran el Museo MEAM y la Dirección de Artelibre a las 5 obras más representativas por su técnica, composición, concepto, calidad, etc. 
...................
DIPLOMAS
5 Honor diplomas awarded by the MEAM Museum and the Artelibre Directorate will be given to the 5 most representative works for their technique, composition, concept, quality, etc.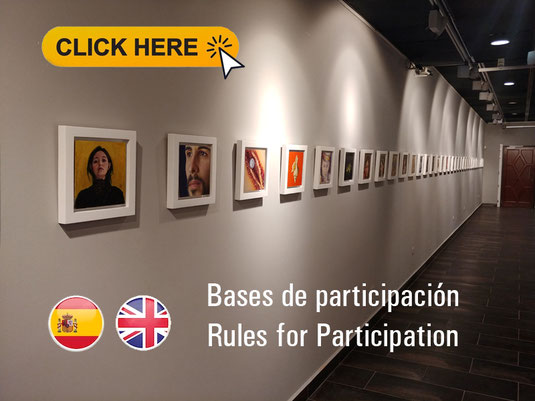 Formulario inscripción - Registration form
Una vez inscrito, recibirá confirmación y datos para el pago.
Once registered, you will receive confirmation and data for payment.